Posted by
Tony
on July 2nd, 2012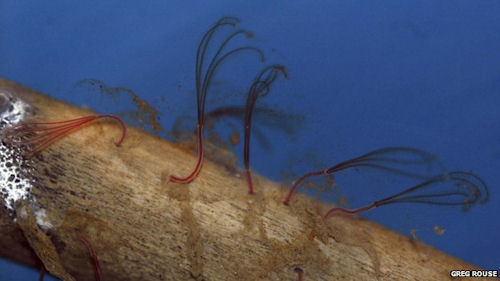 It's like Ridley Scott had a hand in designing worms.
Those dainty little flower-like objects in the picture above are anything but dainty little flower-like objects.
Those things are worms of the Osedax (Latin for "bone devourer") family of wormy beings.
Those things aren't just resting there either…they're actually throwing up acid and trying to get at the marrow inside the bone!
Species of osedax have apparently been around forever but only discovered by researchers as recently as 2002 at the Monterey Bay Aquarium in California.
What's putting them back on everyone's radar are new findings about something that's been bugging researchers since they were discovered…How does a creature with no mouth attach, bore and extract nutrients from something as hard bone?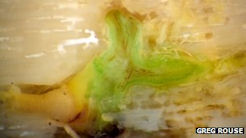 A fresh look at the osedax has revealed something ripe for a low-budget science-fiction film.
Using a technique not unlike Jeff Goldblum's 'BrundleFly' vomit-drop from the film The Fly, the worms basically attach to the bones using root-like appendages which secrete a green, acidic enzyme on to the bone that then breaks down the tissue so that the worm can continue burrowing and extracting the nutrients it needs.
Since their discovery in 2002, seventeen species of the worm have been found off the coasts of California, Japan and Sweden. With this new research, a three million year-old whale fossil collecting dust in Italy has been given a second look and it appears that the burrowing pattern on those bones are a match for the burrowing patterns of the osedax worms.
[BBC]

Twitter this