Posted by
Tony
on June 11th, 2012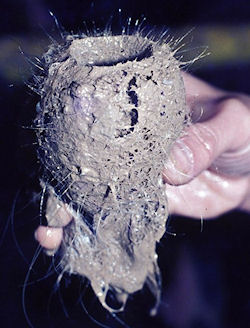 That thing pictured over there to the right? That thing that looks like hair from your shower drain or a Giger-inspired coffee mug? It's a living organism that just might be the future of how we harvest material for all of our tech needs.
Wait…wha?
That weird-looking thing is actually a genetically engineered living thing that, depending on the materials used to create it, produces various types of material including fiberglass and even magnetic nanoparticles.
Scientists at the University of California, Santa Barbara are continually tweaking the original DNA combinations used in these things to produce not only materials which we are currently using but to produce new types of materials that hadn't even existed before.
Remember when your grandma would crochet a sweater for you that you'd never wear? In about ten years time you'll be crocheting a Kevlar-like sweater for your grandchildren except that instead of rolls of yarn? You'll have a bunch of THESE things producing all your Kevlar in different colors sitting in an adorable little basket covered in holograms of geese wearing bonnets.
Twitter this