Posted by
Justin
on April 28th, 2012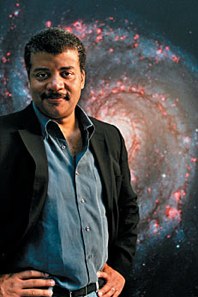 The future seems closer today than it did yesterday.
People are talking about mining asteroids that contain more platinum than we've ever dug up on Earth and finding water that could be the key to permanent space habitation and long distance voyages. In a few weeks, a private company is about to launch a vehicle that will dock with the International Space Station. If successful, it will be a huge step toward a cheaper, safer and more efficient passage to low Earth orbit.
To me, this is amazing.
I've had more conversations about the future of the human race as a multi-planet species in the last three years than ever before. It seems like we are living in an age of exploration. Of true horizon shattering adventure.
I have no formal education in engineering. I will likely never have my name on a research paper. The wonders of space are a mystery to me beyond the most elementary of facts. Among them: once you are there, no one can hear you scream.
But according to Neil deGrasse Tyson, no one is thinking about the future. I'm not. You aren't. Planetary Resources isn't. Nor is Elon Musk and SpaceX. America has stopped reaching for the stars.
Why? Because we stopped giving money to NASA. Because no one can create the future until a group of politicians do it for us. After all, they decided they were responsible 60 years ago.
The National Aeronautics and Space Act of 1958 makes NASA responsible for advancing the space frontier. And since low Earth orbit is no longer a space frontier, NASA must move to the next step.
America fell in love with space because NASA shattered boundaries. They did previously unimaginable things. Impossible became possible.
Other companies are now doing what NASA did decades ago. Spurring imaginations by minting a new reality. Creating new data sets for the smartest minds on the planet to process. And again, they are doing it from American soil.
The United States is on it's way to claiming our destiny as the gateway to the stars. Unlocking the Earth's ultimate achievement: leaving Earth.
Maybe we have stopped dreaming about the future because we decided tomorrow is today.
Or at least that's what I would say if I were dreaming of the future.
Twitter this