Posted by
Justin
on March 12th, 2012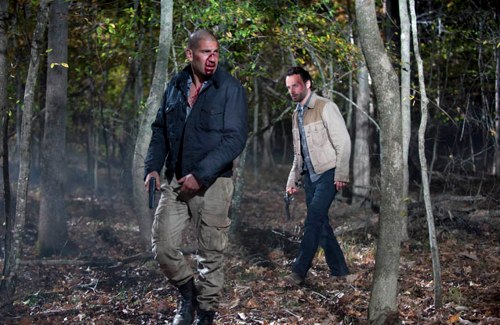 There has been a lot to criticize about this season. A lot.
But one thing that's been beyond reproach for The Walking Dead. They know how to reach a destination, no matter how convoluted the path there might be. Sunday's episode marked one key thematic shift in the series which to this point had been sorely lacking, events had real consequences and changed the dynamics of the characters.
Finger cuffed by death, let's talk about the most satisfying episode of The Walking Dead…
Dale's Shadow
One of my favorite elements of the HBO series Deadwood was how a certain main character died early but was never really forgotten. The characters orbited him, until suddenly they had nothing to orbit. Through the subsequent two and a half seasons, his presence lingered.
TWD did a great job of leaving a Dale-sized hole in the dynamic of the group. Every character was appropriately affected.
For a show that often has the characters shift motivations like a race car driver, this was an appropriate catalyst. Even the random nature of Dale's death seemed more interesting in hindsight.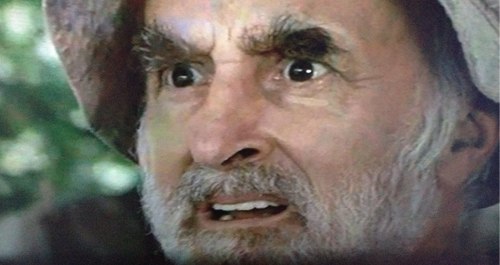 Also, Rick mentioned The Dale Face. Amazing.
What Do You Mean "PC Load Letter"?
Did anyone else think of the Office Space printer beat down scene during the opening when T-Dog, Andrea, Shane and Daryl found/murdered the four walkers?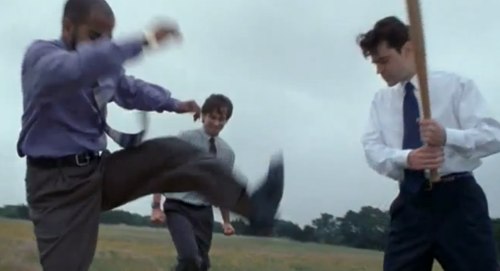 The Chatty Prisoner
Here is my one bitch about the episode and really it's just an extension of my gripes about the Randal character. Has anyone really just tried talking to this kid for like five seconds? Shane takes him out to the woods and says like three words about wanting to leave camp and join up with Randal's Pack O' Rapists and in two seconds the kid is like "Oh hellz yeah! Let's go, we are up by the highway and we got some mother effing S'mores! By the way, you are really going to like my friend James, he's so cool. By the way, has anyone told you that your bruising looks like Mike Tyson's face tattoo? Have you ever seen the Hangover? Me and James talk about it all the time."
This kid didn't seem like a particularly hard nut to crack, basic interrogation could have yielded a lot of great information. Oh well, Shane kills him and then power rams his GD head into a tree so he can pretend the snot got away.
Which leads us to our big reveal.
The Fall Of Shane
Shane uses the hunt for Randal as a pretext to get Rick into a picturesque clearing for an well shot showdown between our two alpha males.
They expose some dramatic monologue and finally Rick lures Shane to let his guard down with a cease fire agreement and then knifes him in the belly until he dies.
Although I found Shane's transformation into Murderer of his Best Friend a little sudden, I'm fine with it because of the performances by the actors. It was compelling, dramatic and evoked some of the key notes that we've built through the entirety of the show.
Most importantly, we get a good turn the corner moment for Rick. Finally.
He saw a threat and physically eliminated it. Now, we the group has two dead role models to evaluate. The Man of Peace in Dale, who would let a hostage run free to protect his own humanity at the risk of his own safety. And Man of War Shane who would mortgage his own morals to protect the lives of those around him.
Cool stuff.
Furthermore, Lori came up to Shane earlier in the episode and delivered a tearful monologue about how sorry she was about everything. This kind of stuff always happens in TV shows right before a character dies. I swear, if all of my friends randomly start making peace with me for lingering issues one morning I am locking myself in my room and going to sleep immediately. It's the only way to stay safe.
Also, Stuff Happened!
Characters open dealing with consequences from previous episode. Set a plan (take Randal out to the road and drop him off) and then have it complicated (can Shane be trusted alone? Does Rick need to have a man to man talk with Carl?) only to have one final complication enacted by a main character who makes a massive decision radically reshape the story and lead to ultimate consequences. THEN! We get a zombie hoard coming to the farm house, setting up next week's finale!
STUFF! PLOT! THINGS! HUZZAH!
In The Comics!
So finally, Shane is dead, just like he was in the comics. Kirkman and Company give a nod to the funny books by having Carl randomly show (seriously, Lori is the worst mother) up in the field after Shane is dead and Rick is waiting for him to zombify. Carl draws the gun his father gave him and pops on in Shane's head.
Is it just me or now that we know that the CDC Man's secret is the fact that we are all infected and that you don't need to be bitten to become a zombie a little past due for revelation?
Finale
Under siege. Out of ammo. Wouldn't it be really cool is a rescue squad of "can they be trusted" strangers from Woodbury showed up?
Twitter this