Posted by
Justin
on February 28th, 2012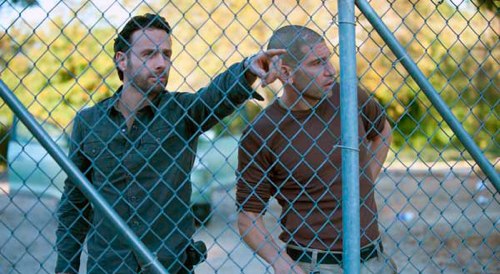 There is a flaw with AMC's The Walking Dead. It's an unfortunate one.
Consistency.
With a lot of shows, this isn't all that important. Comedy, episodic drama or stories that take regular time jumps of weeks or months between installments (a la Mad Men) can sometimes stretch things.
Characters don't have to carry every little wound with them.
The problem with The Walking Dead is that it's central theme is about a new, suffocating reality that all of our characters have to adjust to. The sum total of their changes matters. Consistence in the action and decisions of each character create human decisions we either agree or disagree with.
This is how we decide to root for or agains the characters.
What's disappointing is that even in an episode that is supposed to bring back into play decisions certain characters have made in the past, it rings hollow. They've changed their minds so many times, why should we think that this time it holds any weight?
Full review AFTER THE JUMP…I hate the middle of the story at the beginning thing
This isn't specific to TWD, but I just really don't like the strategy of randomly jamming an action sequence into the beginning of the story and then skipping back to tell us how we go there. I hate it so much I don't know what its called.
If the scene is super cool, it would have been super cool when we got to it. It demonstrates a lack of confidence in your first act. Which is troubling since our first scene gives us a Rick and Shane discussion that we've theoretically been building to since… I don't know… the PILOT!
It's particularly stupid in this episode since the action scene we see isn't all that crazy. Whoa! Rick and Shane got caught up in a situation where they were being attacked by zombies? Weird! I wonder how that happens? It's not like they'd hijacked World War I biplanes and were trying to dogfight with a zombie Red Baron.
If that was the first scene, I'd be like "Yes! I want to see how they get into this situation. Awesome goggles Shane!"
Instead you spoil what would otherwise have been a suspenseful moment when Shane caber tosses his massive novelty wrench through the school window and Zs start pouring out.
Suicide girls
I really just didn't feel connected to the ladies subplot. This is what I was getting at in the beginning. Lori has spent a sizable amount of season two talking about killing herself and Carl. Debating with Rick about how livable this world is. Now she's running the teen suicide prevention hotline with Maggie?
Sure, she could have changed her mind, but let's see that evolution. What if she was really honest with Beth (whose random awakening we will deal with in a second) about her fears the frightened young girl took it as a sign that no one could offer stability. So she pulls the light wrist slash move in the middle of the episode.
Then we can have Andrea, Maggie and Lori attempt to clean her up and dissect what was happening in her head. Meanwhile, we have a running plot on if the three non-doctors helped clean her up right or if they have to go get Herschel.
Eventually, Andrea has the same conversation she had with her in the episode and Beth tries to kill herself again. Herschel is finally called out of necessity.
Or, I don't know, something.
Why should we care about anything interesting?
Two episodes ago, Beth fainting was the reason for Rick and Glenn rescue Herschel who was reenacting the Heartbroken Doc Brown bar scene from Back to the Future III. In this episode, she's awake! No reasoning! I guess she just caught a case of the plot devices.
Same with the hostage. The group has found someone else, someone who comes from a group of people that tried to kill them. Shouldn't you ask him a few questions before dumping him off? Wouldn't that be interesting? I guess next episode they are going to deal with this, but still.
Why should we care about anything if the next episode we just aren't going to deal with it?
Rick should have made Shane put on the glasses
You got two choices. Promise not to kill that boy or start eating that trash can.
So, what now?
We are going to interrogate the kid.
Shane and Andrea are going to plot.
Dale will make a million Dale Faces.
Nothing interesting is going to happen.
Amen.
Twitter this