Posted by
Justin
on February 1st, 2012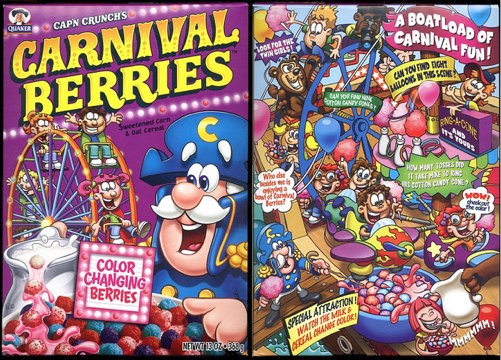 Who doesn't love a color changing cereal? It's dumped into the bowl one color and boom, before you know it, your milk has changed your breakfast into a completely different hue. But it's your milk itself that tells the tale true, as it is now tinted the original color of the previously dry crunchies.
That's because the first shade was a powder applied to the cereal, since washed away to reveal the second stage.
But if you have any designs on making your own version of this fun breakfast classic, think again, the process is patented by Quaker Oats.
Their method is to create cereal pieces of one colour, then coat them with powder of a different hue. That leads to breakfast table magic: "The coating is of a second colour different from the first colour and is in a quantity sufficient to obscure the first colour … Upon mixing milk with the resulting cereal, the edible powdered surface is instantly dissolved or dispersed, revealing the specific colours of the individual pieces very quickly."

What are the ingredients? Glad you asked. "The cereal base has a coating comprising cornstarch, powdered sugar, [and] food colouring."
The patents in question were granted first to Hideo Tomomatsu of Crystal Lake, Illinois and then to the team of Joseph Farinella of Chicago, Illinois and Justin French of Cedars, Iowa through the late 80s and 90s.
Twitter this