Posted by
Ryan
on February 23rd, 2012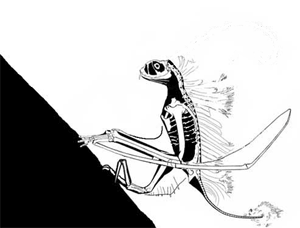 In 2002, scientists published the discovery of a new pterosaur from Inner Mongolia named Jeholopterus ninchengensis. The wingspan was less than three feet and it probably weighed between 5 and 10 lbs. In 2003, David Peters published The Chinese vampire and other overlooked pterosaur ptreasures in the Journal of Vertebrate Paleontology where he posited the physiological attributes of Jeholopterus made it a prime candidate for drinking blood from the backs of sauropods.
"In this analysis, Peters reconstructed the skull, observing elongated teeth akin to like pliers, a fortified palate able Jeholopterus to deliver a swift blow and powerful blow, a possible mechanism by which the teeth could be locked into place after a strike. Additionally, Peters observed a horse-like tail possibly used to swat away small insects.

The pterosaur seemed to have the ability to deliver a strong blow, plus it had fangs — and a method to lock the fangs into another animal after striking. All these features led Peters to suggest Jeholopterus latched onto the backs of sauropods and lapped up blood from fang wounds. Peters doesn't offer any reasons for vampiric behavior — he simply offers it as a physiological possibility."
Many paleontologists are not fans of this theory based on many reasons, but I think a vampire pterosaur would be awesome.
[io9]
Twitter this