Posted by
Justin
on January 24th, 2012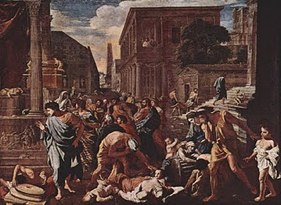 The laboratory that mutated a deadly bird flu into something humans can spread are now called for a 60 day suspension of research so they can open a dialogue with the scientific community. Since their announcement, much Sturm and Drang has been made about how the lab should disseminate the information they gained and if anyone should be in the business of creating a global super plague.
"We recognize that we and the rest of the scientific community need to clearly explain the benefits of this important research and the measures taken to minimize its possible risks," write about 40 scientists.

"We propose to do so in an international forum in which the scientific community comes together to discuss and debate these issues," they write in a letter released by the journals Science and Nature today, Jan. 20.
Translation: Everybody, be cool.
Those who worked on the project would surely like to emphacize how few steps it took them to mutate the virus into something that could affect humanity. Now that it's been done, we can learn a lot about how to prevent the spread of the disease should it happen in the wild.
They would in equal measures like to de-emphasize the fact that they engineered an unnatural global plague.
Twitter this