Posted by
Justin
on December 20th, 2011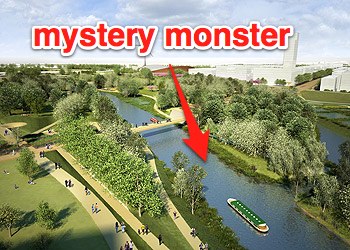 It's under the water. Just below the gentle, lapping surface near Olympic Park in East London. It lurks.
What it is, we don't yet know. Aside from the apparent taste for fat Canadian Geese, not much can be confirmed as no one has yet to put an eyeball on it.
Witnesses alerted environment bosses after seeing a 16lb Canada goose dragged under the surface, with fears there could now be a pike, alligator or even a large python stalking the waters near the Olympic site.

The number of swans on the river and waterways near the newly-built £9bn Olympic Park is also dropping.
No matter what manner of beastie is currently snacking in the waters, we will suspect it's still less terrifying than the official Olympic mascots.
Twitter this