Posted by
Justin
on December 27th, 2011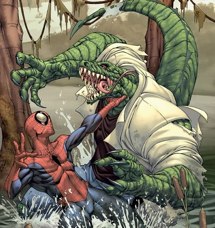 In what would go down as the earliest Comic-Con publicity stunt in support of 2012's new film Amazing Spider-man, a venomous lizard was captured in San Diego.
The 2-foot-long lizard, native to the southwestern U.S. and northern Mexico, is being kept at a county animal shelter in Carlsbad until officials with the state Department of Fish and Game can devise a relocation plan.

"It's very dangerous and illegal to possess without a permit," said Lt. Dan DeSousa of the animal services department.
Although we cannot prove this an organic way to get Southern California nerds terrified of lizards, just like Peter Parker will be on July 3rd in 3D and IMAX, we do hope that Rhys Ifans finds it funny.
[LA Times]
Twitter this