Posted by
Justin
on December 1st, 2011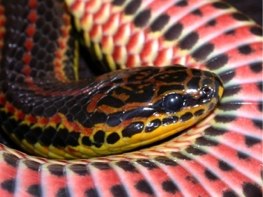 Catch the rainbow and you could be $500 richer.
The South Florida rainbow snake has been categorized as extinct since last month, but The Center for Biological Diversity in Tucson and the Center for Snake Conservation in Louisville, Colo. is now offering a cash bounty for proof it exists.
The SoFla subspecies was last identified in 1952. But since then we had like first gen iPhones that ran on EDGE speeds, so how could anyone be expected to get another photo?
Young says they do not want people going out of their way to catch a snake: "If you see one, it's likely to be basking on the riverbank while eating an eel or having just finished one." Eels are the snake's primary diet. "Take a photo of it. We don't have to have an actual snake."
Fisheating Creek in Glades County, FL is a short one hour, 56 minute ride from Weird Things HQ. So… we'll see you later.
Twitter this