Posted by
Justin
on November 2nd, 2011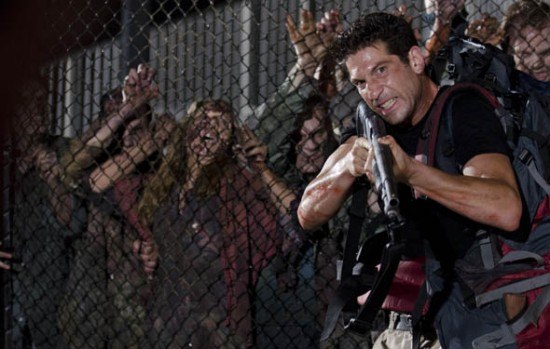 So this is how the short, explosive reign of Frank Darabont over The Walking Dead ends. The final script he had a hand in (he'd long since been removed from the post process) gives us some all time great visuals, memorable genre beats and meaningful character turn. But, it also left our main plot in neutral and saw fit to see some of our alleged main characters have the same arguments over and over and over and over again.
What was good? What was boring? What will change? It's all coming up, AFTER THE JUMP…
Bald
As the rest of the show idles in the parking lot, our only character with any kind of momentum is the one that fans of the funnybooks won't hesitate to remind you should be dead. When we last left Shane he was trapped in a high school, having located the medical equipment needed to save Carl. He and his ample bodied companion Otis launch into the best action sequence this season, bobbing and weaving through corridors, devising last ditch plans to make it out alive.
Last week I ruminated that Shane's volunteering for the rescue mission might be a form of penance. However, the resolution seems to indicate that Shane has found a new strength. The ability, at least in his mind, to make the hard choices.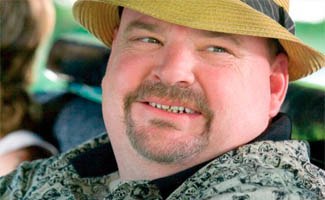 His first big hard choice goes into Otis' knee cap when it becomes clear to him that they don't have enough ammunition to shoot off an oncoming hoard and both live. Shane leaves a big meaty distraction for the flesh rippers and successfully completes the mission whilst concealing Otis' cause of death.
As Shane shaves his head (the image that opens and closes the episode) we see the eyes of a man whose become one with his survival instinct. Right now, that is aligned with his sense of leadership for his fellow survivors. But who knows for how long.
Hang 'Em High
My favorite genre moment of the first season came when Andrea tearfully waited for her bitten sister to "turn" before killing her again. The image of a zombie birth, in a natural if not beautiful fashion was something I'd never seen before.
We get another one of those (if not as personal) in "Last One" when Daryl and Andrea stumble upon a man who hung himself while camping only to get his legs chewed off by zombies and turn into one himself. It's a really cool idea and makes me happy that someone is thinking of it.
Stuck
And other than those two things… there isn't much nice I can say about this episode.
Andrea and Dale are STILL bickering about her death wish? The little girl is STILL missing? Daryl is STILL the misunderstood survivalist whose very likable the more you talk to him?
It's not that these are inherently boring to begin with, it's just that we've been over all of them before. To be honest, I am starting to wonder about the general direction of this season's plot. Specifically, I wonder if they have one.
How Many Episodes Do We Have Left Of Frank Darabont?
None. We are fresh out. From this point on we heap credit or blame on new show runner Glen Mazzara
Where Are We Now?
Carl is stabilized. Otis is no longer with us. Shane is a murderer of men.
Where Do We Go From Here?
Cherokee Rose
It looks like we are finally going to catch some air. Although, if we don't get a new development in this Sophia story soon I hang myself like that dude in the woods.
For all my negativity about "Save The Last One" I am very encouraged by the preview clip for "Rose". Shane is a top ten character on television right now. I just wish some of the rest of the cast would follow him.
Twitter this