Posted by
Justin
on November 10th, 2011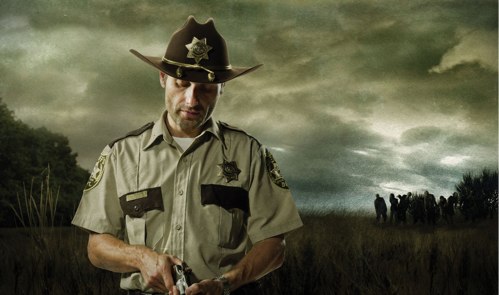 Would you rather an adaptation of a source material be a literal copy or a totally new story with the same characters and themes?
It's a fundamental question, which I believe is at the heart of the ever raging debate amongst The Walking Dead viewers and fans of the Robert Kirkman funny book. Do you want to see actors portray stories you know on sets that resemble what you've seen before? Or do you want the story to surprise you, like the source material once did, with new twists and turns?
If your answer is the latter, then there is nothing that could shake up the story in the AMC series than to kill our hero Rick Grimes. I explain AFTER THE JUMP…Credit where credit is due, I started thinking about this after it was casually mentioned on this episode of The BS Report with Bill Simmons. He and Grantland writer David Jacoby (neither of whom have read the comic) mentioned that if Rick died, it would make the show more interesting.
I have read the book and I think they're right. He's why…
It reinforces the core themes of the show and the book
Chiefly, anyone can die and this living hell will unleash every element of horror on our survivors. Sisters die, infants die, family members are turned into screeching imps that try to tear your lungs out.
Up to this point, it has been the story of Rick. We followed his perspective from the cop car to now. But really, isn't this a story about survival? And what the price of that survival is?
Meanwhile, Rick's plot arc has reinforced his struggle to assume the leadership role he needs to embrace. Wouldn't it be an amazingly macabre end if he was overtaken by the burden? If he gave 100% and died anyhow?
If that isn't The Walking Dead, I don't know what is.

It opens up myriad character possibilities
Not only has Shane had a more interesting journey. But his very existence in this version of the story gives the survivors two ALPHA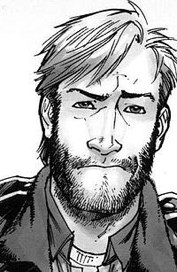 personalities to lead them.
Meanwhile, a dead Rick effects our most compelling characters and best actors (read: Lori, Shane and Carl) a ton to chew on.
How do the rest of the survivors take it? In the first season it was Rick that stood between a coked up Merle Dixon and ultimate leadership. Who stands up once he's gone?
These are massive, character-based problems that demand resolution. Something that a billion episodes of looking for Sophia in the woods could not produce.
It buries the "BUT IN THE BOOK!" argument
This one is personal.
I am very much an proponent for this series to be it's own story. The "…but in the BOOK!" argument gets on my last nerve. I've been critical of the series for a lot, but I've always tried to let it live on it's own.
Killing Rick emancipates the series from the comic. The book was Rick's story, the series is not. It's that simple.
Besides, it would really, really, really irritate book purists, which would delight me to no end.
Twitter this