Posted by
Justin
on November 15th, 2011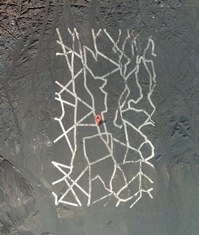 Pictures of a strange plot of land in China's western Gansu province could a secret weapons testing facility and if one weapons expert is to be believed, it's very similar to American installations in Nevada. Including the famed Area 51.
Tim Ripley, a defence expert from Jane's Defence Weekly, compared the structures to similar grids in Area 51, the secret United States military test base in Nevada. "The picture of the circle looks very like a missile test range, with target and instrumentation set out to record weapon effects. The Americans have lots of these in Nevada – Area 51!" he said.
This region is known to be used by the Chinese military for secret weapons test and this kind of grid could be used to simulate city streets, presumably to test the accuracy of missiles.
Twitter this