Posted by
Justin
on October 4th, 2011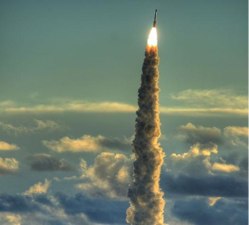 Get door to door from London to Sydney in under three hours, one hour 45 minutes of flight time to be exact, and you get to call yourself an astronaut when you land.
That is the dream of Michiel Mol. The 42-year-old Dutchman who co-owns the Force India F1 team has announced that he hopes to send commercial travelers into sub-orbital space via rockets to drastically cut down travel time between destinations.
"It's the first time a spaceship will be capable of doing four flights a day and of doing 5,000 flights with one engine," he said.

Passengers, who will be entitled to call themselves astronauts if they reach an altitude of 100 kilometres, will be required to pass physical tests which he says are no more stringent than would be expected of an air steward. The first generation spaceship will travel at 2,200mph, but the second generation will need to reach a velocity of 13,750mph to achieve the desired orbit.
The breakthrough is expected to bring unexpected new relevance to the lyrics of Elton John's "Rocket Man".
Twitter this