Posted by
Justin
on October 5th, 2011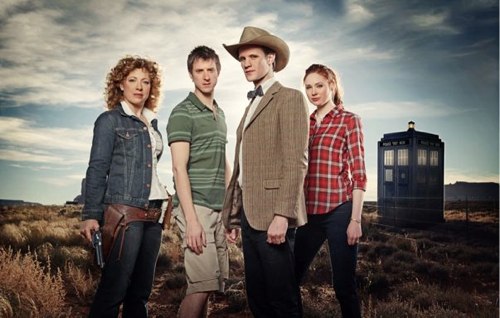 A good friend of mine, frustrated by the current, sixth, season of the rebooted Doctor Who summed up relatively positive fan reaction to the current series thusly: "nobody wants to say anything bad about it because they are afraid it will be taken away from them."
So it is with full knowledge that I love the Doctor and hope his TARDIS adventures continue on ad infinitum that I make the following statement. The recently completed sixth season of the rebooted series is easily the worst since the 2005 relaunch. A moribund plot, confusing big bads, stalled motivations and one particularly overused side character served to ruin an initially compelling Doctor-Companion tandem and left a humming mythology in neutral.
Full breakdown, including spoilers (sweetie), AFTER THE JUMP.Amy's story is done
In her first season, Amy Pond was a girl who briefly saw the adventures held in the expanses of the universe outside of her tiny town. Sure, a trip to the edges of time and space by way of the TARDIS was preferred, but you got the sense that a weekend trip to London would have gotten her 75% as excited. The Doctor meant escape and she was uniquely rambunctious enough to handle it. This meant skipping directly past the doe-eyed "Wot do ya mean we're in SPACE?!?!" naivety of previous companions (See: Tyler, Rose) and headlong into energetic adventures.
And then… Rory.
Her "love triangle" between the Doctor and fiancee in season five was really a decision between her desire for love and security versus adventure and excitement. Once you resolve that conflict, the story is over. The first time we see Rory and Amy in season six it's as a domesticated couple separated for some time from the Timelord. They decide to respond to his letter with all the enthusiasm of visiting an old college friend. Not exactly heart-pounding motivation. In short: what is left for Amy to achieve?
Oh wait! She's quickly saddled with a is-she-or-isn't-she pregnant storyline that's barely touched through the first half of the season (aside from glances by the Doctor to flickering medical scan) and a hunt for her infant daughter (now revealed to be the pointless River Song, more on her later) which is promptly forgotten about within the 15 minutes of "Let's Kill Hitler". Past that, no mention of the baby. Everyone seems perfectly fine with the reality that her infant daughter was kidnapped and brainwashed into a killing machine. Amy seems no more like a mom at the end of the season than she does at the beginning.
In the meantime, we get no conflict between Amy and Rory. Or Rory and the Doctor. Or the Doctor and Amy. They all just happily move along from plot to plot content that everyone has healthy relationships which are only addressed if it means reinforcing what we've already learned. Amy loves Rory. Doctor loves Amy platonically. Rory thinks the Doctor is a really nice guy.
For an adventure show, the writers gave a formally rich character nothing to work with. Emilia Pond left viewers as the Boys and Girls Who Waited For Her Not To Be Boring.
River Song is a pointless character
Why?
What point does River Song serve?
She's not a character, she's a puzzle. A walking Su Doku consistently pestering you that you've yet to learn all about her without giving us any reason to CARE why we would want to.
She eventually marries the Doctor. He eventually bangs her. We get it.
Yet, she wasn't always a boring waste of time. When introduced in the excellent two-parter Silence In The Library/Forrest Of The Dead she cut the figure of a classic Who cameo character. Packed with mythology and an artfully illustrated reminder of the consequences our Timelord faces by jumping back and forth through people's lives. Each little hint about the world beyond for The Doctor was tantalizing. So… they stretched. And stretched. And embellished. And added.
And now we've learned she's the daughter of Amy and Rory, yet no one's behavior or motivation is changed by this major revelation in the slightest. Empty calories.
The Silence might be the greatest force for good humanity has ever known
So, The Silence have been on Earth since the Stone Age controlling the path of human civilization. In that time, we became an extremely prosperous race teeming with life and ready to expand into the universe. We are told this is part of a really long con to trap and kill the Doctor. Why? Because they believe a legend that they will "fall" when the Last Child of Gallifrey answers the question "Doctor who?"
You know what these guys suck at? Killing the Doctor. Bright side? They are really, really awesome at running the human race. Can they please come back and do that more? I am almost positive that we can track the Doctor's actions in forcing us to kill each Silent as the reason our national debt as ballooned over the intervening 40 years.
What's memorable?
For my money, the only stand alone season seven episode worthy of the pantheon of Post-Reboot Doctor Who Hall of Fame is the Neil Gaiman penned gem The Doctor's Wife.
Other than that, we got nothing as daring and inventive as Blink or any unexpectedly awesome villain performances like Harry Lloyd's familial murder squad in Human Nature/The Family Of Blood. No awesome genre story like season one's Father's Day. Hell, we didn't even get a future movie star doing a terrible American accent like Andrew Garfield's suh-tharn der-all infused Daleks In Manhattan.
In comparison, season five gave us the classic introduction to both Amy and the Eleventh Doctor in The Eleventh Hour, Doctor's self-loathing complex opus Amy's Choice featuring a scene-stealing Toby Jones and WWII Dalek romp Victory Of The Daleks, which served as the debut for new side character Winston Churchill.
—
I have faith the next season will be better. I have faith that every one of these problems can be repaired. I trust my Doctor. Or more specifically, show runner Steven Moffat.
Geronimo.
Twitter this