Posted by
Simone
on August 19th, 2011
Simone Allyne is the Weird Things eBook reviewer focusing on readily available, affordable Science Fiction and Fantasy. If you have a book you'd like reviewed, please email WeirdThingsMail@Gmail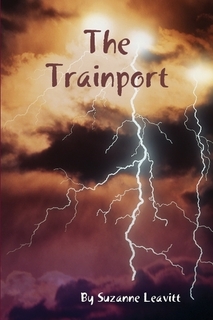 There is nothing better than the feeling of embarking on a great adventure and the excitement that comes along with that uncertainty.   Trainport by Suzanne Leavitt leaves you feeling just like that.
Trainport is quick easy read.  I found it very refreshing and unique to read a sci-fi novella from a young girl's point of view.   It took me back to my days as a teenager and the need to break free of what I thought was such a boring life.
Laurens's adventure begins during a family trip to Chattanooga, Tennessee, but all hell breaks loose when her dad goes missing. Lauren takes it upon herself to help him clear his name.
You are immediately drawn in by the main character Lauren's desire to break free of the monotony of her 16 year old life.  She already knows that there is so much more for her out there than her small town life has to offer.
I liked the concept of what a trainport was as well.  A trainport is a mode of transportation utilizing a train and a lightning rod. It uses an atom smasher and electromagnetic cesium-rubidium rocks to power it for inter-dimensional travel.
My only issue with Trainport is that I found the writing style made it a little hard to really get into the story.   I felt like I was constantly being pulled out of the story when dialogue ended and I went back to being told what the characters were doing. The story was more effective when I was just feeling like I was there with them.
Over all I really enjoyed Trainport and I think that it's a great last read of the summer.  It allows you feel like you've gone on a great adventure even if your vacation funds have started to run low.
[Trainport is available for .99 cents on Amazon]
Twitter this