Posted by
Simone
on August 26th, 2011
Simone Allyne is the Weird Things eBook reviewer focusing on readily available, affordable Science Fiction and Fantasy. If you have a book you'd like reviewed, please email WeirdThingsMail@Gmail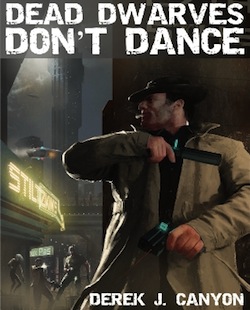 What would you get if you combined Sam Spade of the Maltese Falcon fame with Rick Deckard from Blade Runner?  You would get Noose from Dead Dwarves Don't Dance by Derek J. Canyon.
Dead Dwarves Don't Dance is a fantastic mash up of pulp fiction and sci-fi genres.   Action abounds as you join Noose on his mission to hunt down neo human terrorists who attacked a dwarven dance club and in the process killed someone close to him.
Derek J. Canyon's words create an intriguing picture of world that is post World War III; A world where the news is filled with nothing but sex, violence and gore because it keeps the ratings high. Also, the government that has broken down and what remains is a city-state like situation. People are now genetically engineered to meet specific needs.  These "neo humans" include Dwarves, Goons (imagine The Thing but made of flesh instead of stone) and Pleasers, who are made to "please" people.  But not everyone is happy with neo human's existence.
If you were a genetically engineered person, grown in a vat for a specific purpose or job, where does the nature versus nurture argument come into play for you?  The nature versus nurture issue has been around for ages, and scholars still haven't concluded which of the two has a greater effect on a person. Nature, referring to heredity, and the nurture, referring to the environment, are two very compelling explanations as to why we are who we are today.  Canyon tries to answer this question as Noose struggles with what he is versus what he wants to be.  Will he be able to walk away from the only job he's known, or will he just keep doing what he was grown to do?
I really cannot say enough good things about Dead Dwarves Don't Dance!  I was captivated from the first paragraph. If you are a fan of pulp fiction and/or science fiction then you will love this book.   If you're not you should still pick up this book because it's a great read and a steal at only .99 cents!
[Amazon]

Twitter this