Posted by
Simone
on July 28th, 2011
Simone Allyne is the Weird Things eBook reviewer focusing on readily available, affordable Science Fiction and Fantasy. If you have a book you'd like reviewed, please email WeirdThingsMail@Gmail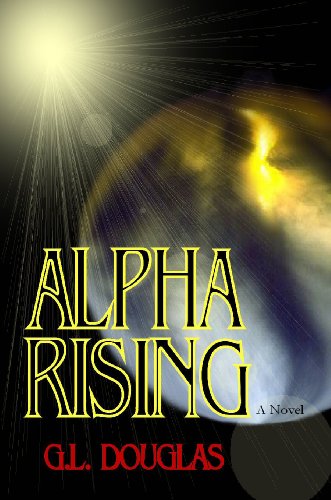 Alpha Rising is a well-written story using very familiar science fiction themes that is worth your time if you're a compulsive reader thanks to it's can't miss price of free.
"May 25th, 2020. Kennedy Space Center.  The countdown clock's bright yellow numerals flashed to T minus 4 hours and counting.  AT 5:00 a.m., two astronauts aboard an experimental craft would lift off on the most critical and dangerous space mission ever undertaken."
These three first sentences are incredibly telling of what is to come in Alpha Rising by G.L. Douglass.
I agree with other reviews of this book that it is well written and that the story line is very good.  But if you are a hard-core Science Fiction fan you will find some of the themes very familiar.  At times I found this a little frustrating, mainly because I was hoping for something new.  As I was reading I recognized elements from 2001: A Space Odyssey, Mission to Mars, and Star Trek.   There was also a strong biblical undercurrent that pushed the story along.
The author brings good character development, so well in fact that I found one character particularly frustrating given her position at NASA.   I did not like that one of the two female astronauts immediately broke down and turned into a sobbing blubbering mess.  Given all the psychological testing, physical and mental training that astronauts under go, I found this to be highly unlikely behavior so soon into the story.  I immediately wanted to shake her and tell her to pull herself together.
One other point of contention is with the very improbable time line this book is given.   Alpha Rising was published in 2006 and the book takes place in 2020, making the space travel talked about improbable in the time frame of this book.  But if you can get past that you will find the varying ideas of space travel discussed in Alpha Rising very intriguing.
Despite my issues with Alpha Rising I really enjoyed reading this book.  The fast pace, good writing, believable characters, and underlying message made for a very quick enjoyable read.  Just right for a summer vacation or a day at the pool.
[Alpha Rising is available for free on Amazon]
Twitter this