Posted by
Editor
on May 10th, 2011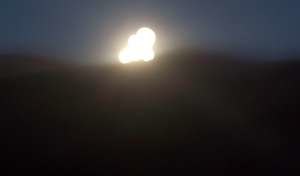 The dusky skies of San Juan, Argentina glowed extra bright on April 25th. Beams of light from the peaking moon, normally soft and gentle, a nudging reminder of the coming night pierced through the air with uncommon veracity.
What could make the moon explode with such vibrant spires of light? More specifically: why did whatever was magnifying the moon form a triangle shape as it moved slowly out of it's direction, returning the familiar orb to it's muted degree of intensity?
So frames the alleged sighting of Argentina's translucent UFO…
"I swear that I was petrified!" said Martin Pastor as he pointed at the image that he picked up last Sunday in Calingasta. he said that he thought the recently rising moon had a strange shape to it, and thus began to photograph it. After a while, he was able to see a triangle with three circular vertexes superimposed over the moon. As it moved away from the moon's glow, it became invisible. "It was a UFO to me," he said.
Check out the pictures, what do you guys think?
Twitter this