Posted by
Justin
on May 23rd, 2011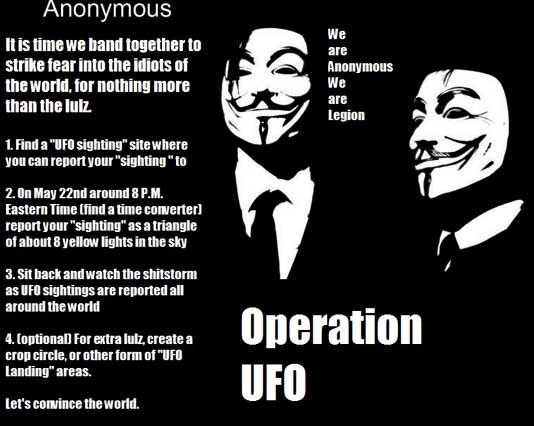 The rapscallions who make up the band of mischief makers known as Anonymous had a new target this weekend, UFO believers. Unfortunately for them, the more cyber-savvy of the sky watchers were ready for the hoax.
"A triangle of about 8 yellow lights in the sky" is the key phrase Anonymous told those who wanted to participate to use on various UFO report blogs and forums yesterday. Their hope was to spark an international panic that hundreds, if not thousands, of alien ships of a similar design are moving into position around the globe.
But if various UFO forum threads are any indication, the hoax got little to no traction. A Google news alert for the key phrase only brings up one blog post discussing the plan before it went into motion.
Twitter this