Posted by
Andrew
on April 28th, 2011
Space X released a video today showing their plans and capabilities for their Dragon space capsule. Besides the ability to ferry crew to and from orbit and to the International Space Station, Elon Musk, head of Space X has said that the capsule itself would be capable of using its built-in rockets to land on any solid planet, moon or asteroid in the Solar System. He described the heat shielding as being rated for "Martian and lunar" velocities.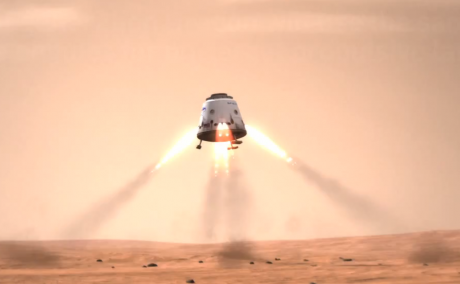 Landing is one thing. What about a return trip, some have asked? If you look closely at the video Space X released you can get some idea of what they may have planned for a trip to Mars.
In the screen grab you can see the Dragon crew capsule in the foreground. In back of it looks like a crew habitat made from the stage of a rocket. Further in back you can see a platform with what looks like an ascent vehicle perched upright. This solves the ascent question.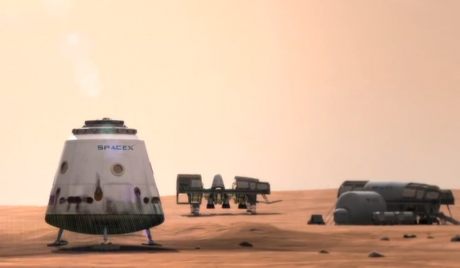 Space X has talked publicly and informally about its plans for the future of space exploration. Besides the forthcoming Falcon 9 Heavy lift rocket, that would be the most powerful rocket since the Saturn V, they've also talked about a Falcon X Heavy and Falcon XX vehicles with 250,000 pounds of cargo capacity.
From the video it looks like we can see three of the four components you would need for a Mars round trip. The Dragon capsule as a lander for the astronauts. The crew habitat visible in the background and the ascent vehicle on a platform further out. Not shown is the space vehicle that would be used to bring astronauts from Earth orbit to Martian orbit.
If you look at Space X's plans for future rocket engine technology, there are plans for motors that would be more than capable of the return trip. The one thing we haven't seen is what their plans are for the spacecraft itself. It'd be curious to see what Elon Musk and Space X think this would look like. Let's hop for more videos.
Twitter this