Posted by
Justin
on March 24th, 2011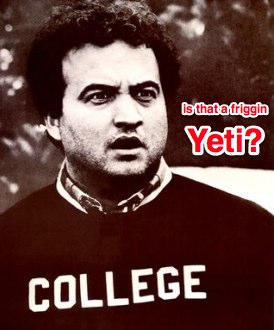 Ever wondered if there was a degree ever more impractical than your double major of philosophy and sociology? We encourage you to submit your application to Kemerovo State University where you can become culturally enriched and educated at their recently announced Yeti Institute.
The facility comes after a recent run of Abominable Snowman sightings in the Siberian mountains. It will be headed up by Igor Burtsev who believes the current creatures being spotted are surviving Neanderthals.
He explains:
'We spoke to local residents', said Dr Igor Burtsev, who conducted an expedition last summer and will head the new institute at Kemerovo State University. 'They told us Yetis were stealing their animals.'

The academic claims around 30 Yetis live in a remote region of Mount Shoria in in southern Siberia.

He strongly denies accusations that the 'sightings' are a bizarre ruse to attract tourists to the far-flung region.

Reports say the two-legged creatures are heavy-set, more around 7ft tall and resemble bears.

'Their bodies were covered in red and black fur, and they could climb trees,' said one account.
We immediately have two questions. Is there anything more awesome than this? Will they accept transfer credits from community college?
[Daily Mail via Cryptomundo]
Twitter this