Posted by
Ryan
on January 6th, 2011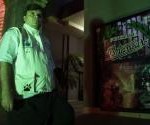 In the Colombian city of Medellin, a local undertaker has started a "ghost census" to count and catalog the spirits of the city. His team of four "properly attired"  funeral parlor workers has spread out around the city in the past few weeks cataloging no fewer than 215 ghosts.
"It's beyond question that many of the city's buildings and homes have ghosts. For years, we've heard stories about them and we thought the time had come to approach, catalog and classify them through a census," William Betancur told AFP.
"They've reported back with 215 ghosts…. Our video and still cameras have captured 23," he said with pride.
The idea came about after the undertaker sensed his dead dog still wandering the funeral home.
Twitter this