Posted by
Justin
on December 15th, 2010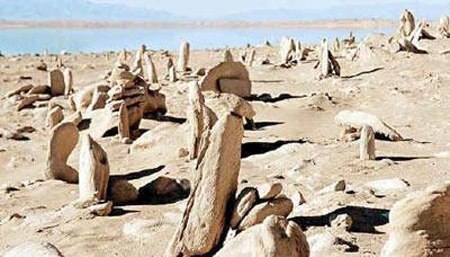 It's a pyramid. In China.
Wait, it gets weirder.
It's on top of a mountain and is not (as far as researchers can tell) a burial tomb for a royal dynasty. In fact, local legend has it that the elevated platform has been used as a UFO launching ground.
Nine scientists form the team that will travel to the western province of Qinghai and the mouth of this 165-198 foot tall structure known as the "ET Relics."

"The pyramid has three caves with openings shaped like triangles on its façade and is filled with red-hued pipes leading into the mountain and a nearby salt water lake," says China's state-run Xinhua agency.

To add to the mystery, iron debris and unusually shaped stones are scattered about the desolate area.

"The theory that the pyramid was created by extra terrestrials is "understandable and worth looking into…but scientific means must be employed to prove whether or not it is true," says Yang Ji, a researcher at the Chinese Academy of Social Sciences.
More information on the pyramids of China can be found in this handy YouTube clip.
[Weird Asia News via Derren Brown blog]
Twitter this