Posted by
Justin
on November 10th, 2010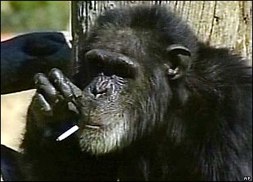 If you were discovered in Beirut, as the center of attention making everyone around you laugh it up only to be found by some new friends who insist you travel with them to Brazil, you might think yourself a pretty lucky jet setter.
If you are Omega the chimpanzee, it's even more impressive. Sure he was nabbed by animal rights workers who were revolted by the idea of him blowing buts in a Lebanon zoo. But still, free trip to Brazil!
"The chimp still regularly smokes … if someone will throw him a cigarette he'd pick it up and go for it straight away," said Jason Meier, executive director for animal rights group Animals Lebanon.

Organizers of Omega's evacuation say it marks the first time a chimpanzee has been rescued in Lebanon, a country with virtually no animal rights protection laws.

In his younger years, Omega was used in one of the local restaurants to entertain people and was made to smoke cigarettes and serve water pipes to customers. After he grew stronger, he was locked up and taken to a zoo where for the past 10 years he has lived in a cage measuring 430 square feet (40 square meters).
Hopefully, they packed some Nicorette. Quitting smoking could be quite the monkey on Omega's back.
[AP]
Twitter this