Posted by
Ryan
on November 18th, 2010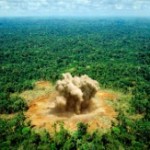 Scottish police are investigating a mysterious explosion in Garadhban Forest in Gartocharn about 20 miles northwest of Glasgow.
Officials responding to the report "discovered some damage to the wooded area within the forest that would suggest some short of explosion had occurred," the statement said.
Meteor? Mystery Missile? Wood Goblins? What do you think it is?
[CNN]
Twitter this