Posted by
Justin
on October 14th, 2010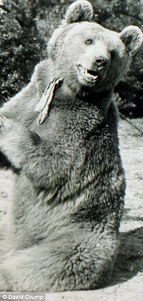 From the grim depths of World War II shown spires of inspiration bright enough to pierce the darkness. Bravery, honor and humanity rarely seen beyond the bleakest of situations.
Among them: Private Wojtek the bear that beat the Nazis.
(Oct. 13) — The accomplishments of the ursine allies of World War II are often overlooked, but not by the city of Edinburgh. They're building a $318,000 monument to honor "Private Wojtek," a 500-pound brown bear that served in the Polish Army in the fight against the Axis before retiring to the Edinburgh zoo.

"Wojtek" translates to "the happy warrior," and the bear's contribution to the Polish military effort was largely noncombative. He was an unofficial mascot for the 22nd Army Corps, providing much-needed entertainment and distraction during brutal desert warfare.
We can just see the posters now, flitting along the Warsaw streets: Thanks to Private Wojtek, Hitler has to grin and BEAR it!
Also, in this Daily Mail story, Wojtek is also remembered for his voracious beer and cigarette habit, officially making him more of a man than you.
[AOL]
Twitter this