Posted by
Justin
on October 14th, 2010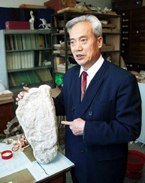 Got a hankering to hunt down a Chinese Bigfoot? Your ship has come in, sailor!
The Hubei Wild Man Research Association (HWMRA) in China's Hubei province announced they are recruiting researchers from around the world to join its team in relaunching the search for the Bigfoot creature in the Shennongjia forest region. Luo Baosheng, vice president of HWMRA, told Xinhua, China's state run news agency, that team members must be in good physical health and it is preferred they are between the age of 25 and 45 years old. "Most importantly, we want the team members to be devoted, as there will be a lot of hard work in the process", he said.
No word on how to submit your application.
Twitter this