Posted by
Justin
on September 15th, 2010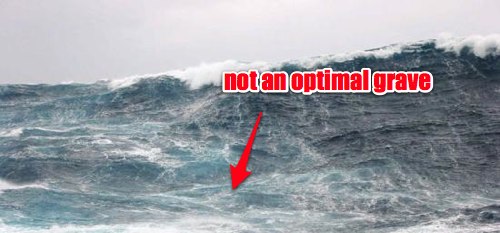 Daniel Scott Lasky final wish was to be buried at sea. Unfortunately he accidentally set of a murder investigation when those hired to lay him to rest in a watery grave did not properly weigh down his corpse.
…Lasky's body resurfaced Saturday. About 9:30 that morning, a fisherman reported a man's body floating about four miles offshore. Its wrappings had come undone. Sheriff's marine deputies raced to the scene, along with the Coast Guard. Homicide detectives waited onshore.

Investigators later found Lasky's intended resting place in his obituary in the Hickory Daily Record: "Burial will be at sea."
No word yet on if burial regulations were followed.
Twitter this