Posted by
Justin
on July 28th, 2010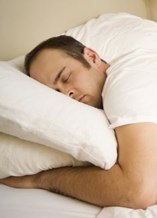 Remember the 1995 Sandra Bullock romantic comedy While You Were Sleeping? This story is nothing like that.
Paramedics in Vienna had a shock when they answered a call – and found a man "eaten alive" by maggots.

Ambulance crew were called out yesterday (Tues) after a woman rang to say her elderly partner was having breathing difficulties.

But when they turned up they found the man's corpse covered in maggots.

Police spokesman Roman Hahslinger said today the 34-year-old woman had been arrested to clarify the background of the man's death.

"She lived with the 61-year-old man for more than 10 years in Brigittenau district," he explained, adding that the man had been bedridden and partially paralysed after a stroke some years ago.
Remember the Wham! song "Wake Me Up (Before You Go Go)"? In light of this, they should probably tack on "…Or If I Am Being Eaten Alive By Maggots".
Thanks to Weird Things writer Darcy for passing this along.
Twitter this