Posted by
Justin
on June 2nd, 2010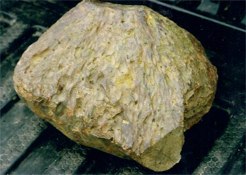 So you find a totally sweet cone-shaped rock but can't shake the idea that it's somehow special. Where to do you go to get clarity on what the geological oddity really is?
If you are Oregon couple Donald and Debbie Wesson you haul it down to a county fair, which leads you down a path of academic trail to realizing you've got your hands on a meteorite.
Wesson finally began asking around after watching a television program about meteorites. He took the rock to a local county fair in Castle Rock, Washington in the summer of 2009, where he spoke with a member of the Southern Washington Mineralogical Society.

The find was referred to Western Washington University in Bellingham, Wash., where initial sample tests showed it was probably a meteorite. Final confirmation came from the Cascadia Meteorite Laboratory at Portland State University, which classified the Morrow County meteorite as an L6 ordinary chondrite that had been highly shocked (S5) but minimally weathered (W1).

The latest find represents a relatively common type of meteorite, according to Melinda Hutson, a planetary scientist at Portland State University who helped make the classification. But, she added that it has several intriguing features.
Also, they got an Elephant Ear and rode the Flying Dutchman.
[Space]
Twitter this