Posted by
Justin
on June 22nd, 2010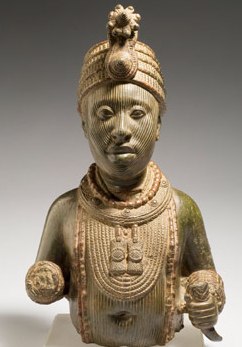 German explorer Leo Frobenius came to West Africa and made a startling discovery. Gorgeous statues cast in exquisite bronze. So intricate, so beautiful, they so could not be the work of the locals. No, of course not. They simply had to be the handiwork of the lost city of Atlantis. Finally! Proof had washed upon the shores of modernity!
Or not. Turns out the statues were, in fact, created by the locals. Oops.
In his book, Voice of Africa, Frobenius wrote: "Before us stood a head of marvellous beauty, wonderfully cast in antique bronze, true to the life, incrusted with a patina of glorious dark green. This was, in very deed, the Olokun, Atlantic Africa's Poseidon."

"I was moved to silent melancholy at the thought that this assembly of degenerate and feeble-minded posterity should be the legitimate guardians of so much loveliness," he added.

Frobenius was referring to the people who lived in the Kingdom of Ife and whose artists, in fact, created the sculptures over the course of some four centuries. Leading art experts believe they are among the most aesthetically striking and technically sophisticated in the world.
The sculptures are now on display at the Museum of London, after which they come to the United States.
[CNN]
Twitter this