Posted by
Justin
on June 2nd, 2010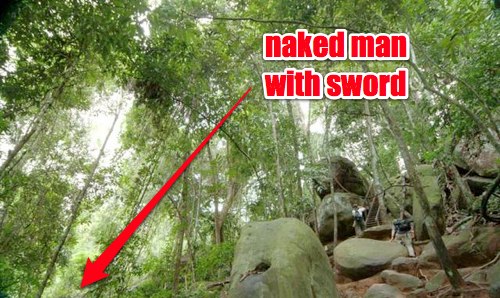 Here is the story thus far:
A little girl disappears into the Cambodian jungle in 1989 where she presumably learned the Bear Necessities for the next 18 years. In 2007 she was discovered and reunited with her family.
But things weren't all milk and honey, Rochom P'ngieng (now 29 years old) refused to learn English and still crawled instead of walking.
Then…
"Even the day before she fled the house, she still helped the family pick vegetables. She must have gone back to the forest and we still cannot find her." The dramatic reappearance and attempted reintegration of the "jungle girl" has gripped Cambodia, where she is also known as the "half-animal girl" because of her hunched appearance and the fact she makes animal noises rather than speaking.

Mr Lou blames his daughter's second disappearance on "forest spirits". In a society shrouded in mystic beliefs, he has also enlisted a fortune teller to help with the search. He is saving up for an offering of one wild ox, one pig, one chicken and four jugs of wine, which, the mystic assures him, will secure his daughter's return.
When she was lost the first time, many locals reported seeing her with a naked man wielding a sword. This is said to represent the treacherous forrest spirit which may have lead her back into the brush.
So, be on the look out for that.
PHOTO CREDIT: Dave Perkes
Twitter this