Posted by
Justin
on June 9th, 2010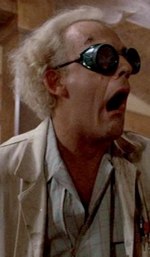 Why is it that time travelers always so sloppy?
Whenever you hear of someone in the news evoking the time travel defense, it's always for bad stuff like accidental deaths, murders or elaborate plots to kill someone who eventually ruins the planet. Or something.
Is it too much to ask for a man to come forward or backward in time and just mind their business? Take notes, talk to the natives, enjoy our flavored iced coffees and GTFO.
Then again, maybe only the sloppy time travelers are the ones who get caught merc-ing random civilians with bizarre tales like the one below. At that point the blame really lies on the supervisor that sent them back in the first place. Now all we have to do is invent a time machine so we can subpoena him for his clear negligence.
Towards the end of July 2009, New Zealander Mark Paul Warren, 26, was found not guilty, by reason of insanity, of killing two people in 2007 by driving dangerously near Auckland airport at Mangere. Warren, who had no licence, had been travell­ing at 166km/h when he smashed into another car; passengers in both cars died, while Warren and the other driver spent months in hosp­ital. After he told police that he had been in a time machine and needed to exceed 100km/h to become invisible, he was committed to a facility in Hamilton specialising in treating acute mental illness.
Read the whole story for a few more real life time traveller stories. And if you are reading this and are in fact from another spot on our time line, seriously, try the iced coffees. They are de-lish.
Twitter this