Posted by
Justin
on May 5th, 2010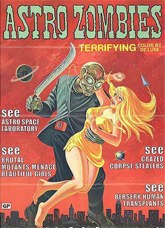 Everything dies. Somethings just die, only to be reborn as a deadly threat to those still living.
Everyone say hello to the Zombiesat, a term used by engineers to describe satellites which have lost communication with the ground are now just stumbling around as a shell of their former selves, posing a collision threat to other functional orbiters. So what are we to do with such a menace? Separate the head and destroy the brain?
Nope, turns out you just have to blow them higher into orbit so they either crash into each or slowly descend back into orbit and eventually burn up in the atmosphere.
Or… you could sign on to this awesome plan
Some more exotic measures involving tethers and other props have been proposed, Johnson said, but aren't yet feasible.

For getting rid of very small pieces of space junk, there are two favorite ideas, he said. One involves shooting lasers at the objects to push them into lower-altitude orbits so they fall back down to Earth more quickly.

"That has technical, economic, as well as policy issues," Johnson said.
Policy issues include a possible violation on the Total Badass Restriction Act of 1986.
[Space]
Twitter this