Posted by
Justin
on May 24th, 2010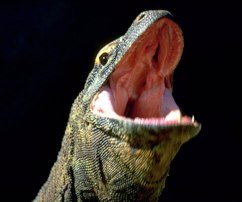 Welcome to Indonesia, where safety is job one on our construction sites. Make sure you wear your hard hat and goggles at all times and stiffen up that right cross for the occasional lizard attack.
JAKARTA, Indonesia – An Indonesian worker freed himself from an attacking Komodo dragon by punching the reptile's snout until it released him and ran away, a national park official said Monday.

Agustinus Jenaru, 20, was working inside an unfinished wooden bungalow on Rinca island when the 6.5-foot (two meter) lizard entered and bit onto his left hand on Saturday, said Komodo National Park official Daniel Bolu Ngongo.

Jenaru hit the jaws of the giant lizard for several seconds until it freed him. Jenaru was taken to a clinic for treatment of lacerations and a puncture wound.
…and beyond that, no one is sure if that lizard was even union.
[AP]
Twitter this