Posted by
Justin
on April 25th, 2010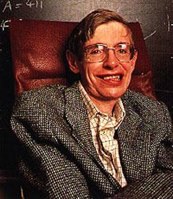 Stephen Hawking is a world renown thinker and a one of a kind personality. Now, he's also the guy who can flop the "told ya so" card when we are enslaved by a nomadic race of aliens.
"We only have to look at ourselves to see how intelligent life might develop into something we wouldn't want to meet," the award-winning British scientist said in a series for the Discovery Channel, "Into the Universe with Stephen Hawking."

To drive the point home, Hawking argued that aliens visiting Earth would likely be the same as when explorers first arrived in the New World.

"If aliens visit us, the outcome would be much as when Columbus landed in America, which didn't turn out well for the Native Americans," he said.
His solution: stop trying to talk to aliens. Our solution: welcome our new wise and just overlords with open arms.
Twitter this