Posted by
Justin
on September 17th, 2009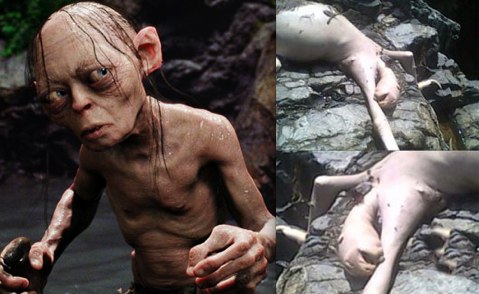 This comes from The Metro.co.uk:
The young teenagers were playing by the waterfront in a Panama lake near Cerro Azul when the bald beast emerged from a cave behind a waterfall. They started screaming as it shuffled out "as if to attack them".

Locals told Panama news the monster was like "Gollum from Lord of the Rings"…

But in a "desperate bid to defend themselves" four children grabbed rocks from the beach and hurled them at the beast.
After offing the beast, the children threw the body in the water and confessed to their parents what they'd seen. The carcass of crazy creature was later found picked apart by buzzards. Like, really, picked apart considering only bleached bones remain of what looks to be a completely intact, if waterfall dwelling, Gollum.
We might never get to examine this anomaly in a laboratory but at least those Central American youths had the times of their lives beating a rare creature to death before carelessly tossing it into a lake.
Hat tip to the one and only Brian Brushwood for this link.
Twitter this