Posted by
Sean
on June 19th, 2009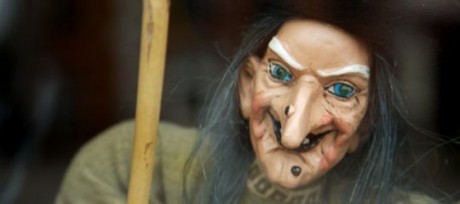 You thought the Catholic Church was done persecuting witches. Well, they are at it again, this time in Stockport, UK.
High Priestess Amethyst Selmeselene (also known as Sandra Davis, grandmother of 11) attempted to rent out "Our Lady's Social Club" for her group's annual Witch's Ball. When she went to pay for the venue she had secured, she was turned away and told that the Roman Catholic Church, which owns the facility, had blocked her from renting the center.
Her goal was to attract a crowd of people to do obscene and ungodly things like have a buffet dinner and dance to an ABBA tribute band.
Though we can fault High Priestess Selmeselene for her taste in music, we can't fault her for wanting to get down and have a good time with her women's group.
The Roman Catholic Diocese of Shewsbury told Ananova News that "Parish centers under our auspices let their premises on the understanding users and their organisations are compatible with the ethos and teachings of the Catholic church." And apparently that means a no go for pagan partying.
When will the Catholics leave those poor witches alone? When will they finally be free to dance to bad eighties music while talking shop around a bubbling cauldron? I guess the Church decided that if they can't burn them, they should at least be able to ban them from their rec. center.
Twitter this