Posted by
Matt
on February 11th, 2010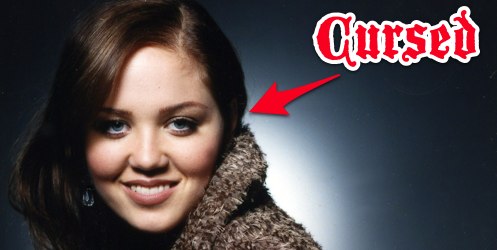 This week's poltergeist focus was, of course,
inspired by the recent death of actress Zelda Rubinstein, who portrayed indefatigable medium Tangina
Barrons in three Poltergeist movies and an episode of the short-lived Poltergeist television show. Barrons was one of many lucky performers spared from the infamous Poltergeist curse, which, if one is to believe the spooksational tale, felled four actors over the course of the three-film series: Dominique Dunne, who was strangled to death; Julian Beck, who died of stomach cancer; Will Sampson, who died of kidney failure; and Heather O'Rourke, who died from septic shock. Craig T. Nelson is still surly and kickin'.
I'd go into to greater detail, but everyone's heard tell of the legendary the Poltergeist curse. Instead, let's take a look at several of Hollywood's lesser known, but equally shockifying, hexed films:
Citizen Kane (1941)
Though Orson Wells' lived for 44 years after the production of his early opus, the supervising coroner at the Hollywood polymath's autopsy has stated (off the record) that, while no surface injuries were detected, Wells' innards were "violently trisected… as if sliced through by the sharpened runners of some phantom sled."
Them! (1954)
Them!'s theme of hideous consequences wrought by an irresponsible nuclear age were mirrored by real life when several of the film's cast and crew began to develop a series of strange physical mutations. Some performers – such as Joan Weldon, who sprouted a series of light-sensitive horns down the length of her spine – managed to keep their deformities secret; others – including Edmund Gwenn, whose teeth and fingernails reversed painfully back into his body – were forced to leave show business forever.
Rocky III (1982)
Rocky III is one of the few films that may have suffered from an actual magical curse. During one of the street scenes, Director Sylvester Stallone repeatedly asked a mysterious old woman to move out of a shot. Though the woman left without protest, she blew a palmful of strange yellow powder at one of the cameras. When that day's reels were developed, the dusted camera's film contained frame after frame of two-headed animals, leprous genitals and baby amputees. Stallone quietly ordered that the camera be blessed, encased in cement and buried beneath St. Peter's Church in Philadelphia. Since then, a wary Stallone has allowed myriad old women to loiter, undisturbed, throughout his movies' sets.
Swimfan (2002)
Rumor has it that Actress Erika Christensen actually drowned while shooting Swimfan's thrilling climax, which was shot early on in the film's production. The incident was kept secret for insurance reasons and a lookalike was brought in to film the rest of Christensen's scenes. When the lookalike died in a tragic car accident just two days after production wrapped, the studio was forced to scout out a second lookalike, who, to this day, is still posing as Erika Christensen's original secret lookalike.
Juno (2007)
Over the course of Juno's 30-day shoot, Ellen
Paige regurgitated over 75 pounds of human hair.
zp8497586rq
zp8497586rq
Twitter this