Posted by
Matt
on February 1st, 2010
Even if Apple's already-divisive iPad doesn't herald in a new age of laptop computing, it certainly offers a giant leap forward in tablet technology. This Monday, Wednesday and Friday, Weird Things is paying tribute to the fantastic tablets of yesteryear, and the brave tableteers who sculpted them.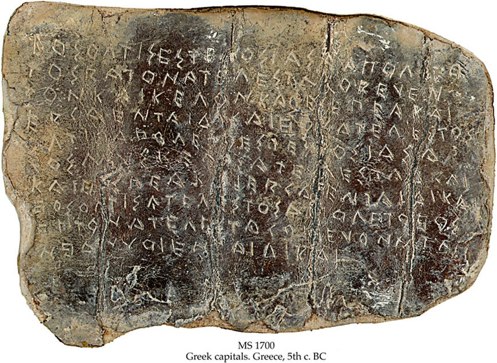 Today: Curse Tablets
If you're anything like me, the escape plan appended to your Ty Diggs assassination scheme involves traveling back to ancient Greece, and getting a job as Zeus' animal-transformation/rape coordinator. But it doesn't have to be that way. I just read this thing about cursed tablets – metal plates with etched binding spells designed to exact bloody revenge against, or coax games of footsy from, your fellow Greeks (Yes. Romans, too. Who are you?). All it takes is a thin sheet of lead (cheap and readily available), a gruesomely (or erotically) worded request to the appropriate god and, depending on the request, a small figurine of the spell's intended target. Bada-boom! Curse tablet. Sure – the love spells can be tricky, and often require a lock of the intended's hair followed by careful concealment of the entire schmear in said intended's place of dwelling, but the other ones? (Especially the violent ones?) You just fold or roll the sucker up, maybe knock a nail through it (to ensure that the invoked magics are bound to the victim) and install it wherever it needs installing (most infernal gods prefer that tablet requests be buried in a sepulcher or tomb, thrown down a well or affixed, Luther-style, to a temple).
Now, folks with mystic inclinations and an affinity for light metalwork will, of course, render these tablets for themselves. That usually means love spells (which come in both "force sexual relations" and "enc
<a href='http://buygenericvviagraonline.com/' title='buy generic vi
agra online'>buy generic viagra online
ourage adorable affection"), but those are the more complicated ones, anyway. The mojo-carriers you want focus on are simple, cold-hearted vengeance curses, which were produced en masse by various tablet artisans. These generic vengeance tablets, complete with a blank space just itching to have a disreputable's name etched into it, were mainly sold outside courtrooms. Greeks tried to do things democratically, but what's democracy without a little third-party hoodoo laying its fat finger on the scales of Justice? Folks embroiled in court battles would purchase tablets begging the gods to screw with their legal opponents' court performances, thereby, creating litigation foibles of "Liar, Liar" proportions.
And if ancient Greece isn't really your thing – maybe you were thinking about one of the Roman Empire's British providences, or perhaps even ancient Egypt – that's fine, too. In fact, in the popular past-tense resort town of Aquae Sulis (now Bath, England), archaeologists have unearthed over 100 curse tablets, most of them damning the towel and clothing thieves who made a living off the untended bathing accoutrements of Aquae Sulis vacationers. And in 12th century Egypt, where they never really cottoned to all this tablet stuff, people used "execration texts" – spells etched into clay statues and pottery – to bring on all sorts of glorious misfortune. Just craft, etch, and bury or shatter. Execration complete!
Oh, and not all the "curse tablets" summoned actual curses. For example – you can work with a town to create "judicial prayers," which are essentially curse tablets aimed at anonymous criminals who did the locals dirty. Or you could etch tablets designed to help the dead find peace in the afterlife. But if you had wanted to do that, you probably wouldn't have subjected Ty Diggs to the sort of violent death that's almost certain to turn him into a ghost so that now other ghosts have to hang out with him.
Cursed tablets. Think on it.
zp8497586rq
zp8497586rq
Twitter this