Posted by
Matt
on December 2nd, 2009
From KFC chicken mutants to lab-grown love bugs, urban legends featuring bizarre animal experimentation (and the resulting grotesqueries) are six for a nickel. This Monday, Wednesday and Friday, Weird Things takes a look at the top-shelf stuff – Real animals. Actual experiments. Monday we looked at a general history of animal experiments.
Today: The Forbidden Zone (i.e., the human uterus)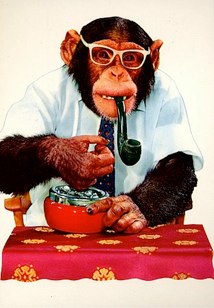 I know. You were promised a story about a human/monkey hybrid. This story's actually about a human/ape hybrid (I only wrote "monkey" because it sounded funnier) that never was… but certainly not for lack of trying. The madcap cross-breeding adventure started in the early 1900s when Soviet biologist Ilya Ivanov began experimenting with equine artificial insemination and quickly
realized that the semen from one stallion could be used to impregnate more than 500 mares. Before long, Ivanov was the toast of the livery; horse breeders from all over the world flocked to the scientist with lofty dreams of innumerable brawny foals. As Ivanov repeatedly realized these dreams, he became increasingly confident in his methods. Before long, he started experimenting with cross-species breeding. Ivanov hybridized a zebra and a donkey. An antelope and a cow. A mouse and a rat. A guinea pig and a mouse. He was like a kid at a sundae bar where all the toppings are different types of animal sperm.
Then, he got an idea.
Ivanov pitched his plan to the Soviet government. It seemed so simple. Pop some human semen into a female ape and boom goes
the dynamite. If you're questioning the scientific purpose of Ivanov's scheme, well, the man was totally clear about why apeman needed doing – as an incalculable boon to atheist propagandists. In fact, when the government approved the funding and
Ivanov strutted off to the chimp-filled Conakry botanical gardens in French Guinea, the only opposition he faced was from religious groups; scientists worldwide were massively supportive (and excited to cuddle the apish man baby). A quick word about 1920s evolutionary beliefs: Like today, experts pretty much agreed that humans evolved from apes, but also thought that specific racial characteristics provided a legend for determining what group of apes a person or group descended from (e.g., black people evolved from gorillas, Asians from Orangutans, etc.). No one had any doubt that Ivanov's experiments would succeed.
But test subjects proved infertile. Apes died. Even though juicing chimps up with man seed proved wholly ineffective, Ivanov was undeterred. The scientist developed a new plan to inseminate human females with ape sperm. The French Guinean colonial government received this wild
new venture with anxious collar tugging, and Ivanov was forced to return to the Soviet Union, which was boundlessly enthusiastic and immediately provided the biologist with organizational assistance. Alas, the program never got off the ground. Rumors that the government's involvement spurred from a desire to banish any notion of God from the minds of
the proletariat, and that any successful hybrid creatures would be recruited and trained as mutant soldiers, eventually led the state to arrest Ivanov, who ultimately died in exile. Scientists would later realize that apes have two more chromosomes than humans, making Ivanov's proposed hybrid impossible. In the end, science muttered a quiet, "Oops." and soldiered on…
zp8497586rq
I start my day with a capsule and would recommend these to anyone. Honest results, fast. ! Our pharmacy is the leader in delivering medications throughout the world.
Twitter this