Posted by
Matt
on November 11th, 2009
More elusive than Bigfoot, cagier than Nessie and capable of eating twice as much human flesh as the average Wendigo – It's Michael Rooker, and when you aren't checking him out in his new Web series "Rooker," or in everyone's favorite film, "The Bone Collector," your reading about him all this week, buy amoxicillin no prescription as we celebrate his contribution to genre films, right here at WeirdThings.com
Law and order. Crime and chaos. Rooker has chased down dark, wandering demons, pinned them up against mountains and torn out their still-beating hearts with his teeth. And Rooker has eaten the black hearts of wraiths and become a demon himself, leading fool-headed heroes on perilous, grueling pursuits, with the promise that only one man would live to see another sunrise.
"But, hold on!" you say. "What about love?"
For Rooker in love – and I don't mean typical Hollywood c-plot stolen glances over a patrol car dashboard culminating in a road-weary third-act kiss interrupted by gunfire – one need look no further than James Gunn's superlative 2006 horror-comedy, "Slither." Plot-wise, Rooker's character Grant Grant is a small-town business mogul who becomes possessed by an alien being that uses Grant's body to initiate an elaborate reproductive cycle through which the town's inhabitants are enslaved by the malicious being's collective consciousness. The brilliance of the film (aside from, like, that entire concept) is that the alien hive mind absorbs Grant's core emotional memories, which it passes on to the newly zombified townsfolk. At the beginning of the film, Rooker plays a character who's focused, authoritative, arrogant and, though lustful towards his beautiful, young wife, Starla (played by the always-stellar Elizabeth Banks), hardly romantic. Once his consciousness is consumed and his body is horrifically mutated, aside from his pride and ambition (now directed toward the systematic assimilation of the human race), the only thing that remains of Grant, and his former life with Starla, is his love, which he broadcasts out through the tortured voices of every townsperson, while their deforming bodies – now dehumanized mental appendages of a sinister interstellar despot – lurch and stumble through the ruined town.
You could make the argument that Grant's urge to rise above his small
-town roots had already resulted in the capture of his brain by the hive mind of American capitalism, which seeks to undermine small-town life and private business through corporate homogeneity. In that reading of the film, Starla was already wed to a monster, who only comes to truly appreciate his wife through possession by the alien being and the realization that he has defiled himself and become something foreign and hideous. Still, Grant loves Starla, and that single emotional fact dominates a film that, at its heart, is really about disgusting slugs and the way they try to force themselves down the throats of naked teenagers. That the details of Grant's life exist on the page is only secondary to the way Rooker inhabits the character, and, even through a twisted cocoon of plastic and make-up, gives the audience something to feel and someone flawed, pathetic and wholly relatable to feel it for.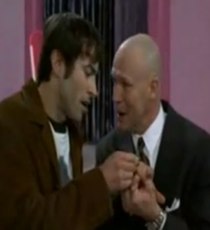 The subtle, somehow-sympathetic arrogance of Rooker's performance in "Slither" is present (though, by virtue of the character's role, not as fully developed) in an earlier film – Kevin Smith's lovable cinematic debacle, "Mallrats." Playing Mr. Jared Svenning, who, like Grant, is a physically intimidating, ambitious, money-hungry conniver, Rooker's performance fills the necessary role of the cartoonishly rotten antagonist. Because the film is more character-driven comical picaresque than plot-based narrative, Svenning's intentions earn more screen time than his specific motivations – the intention being to ensure that his daughter, Brandy, never marries TS, a consummate (but pure-hearted) slacker. Now, on the surface, Jared Svenning really does come off as just an immense cosmic butthole. And, watching the film at age 15, it's easy to hate Rooker's character and root for those lovable mallrats to dick-joke their way to a happy ending. Watching the film now, while I still cheer as Svenning savors those pretzels, I also understand that, for better or worse, he loves is daughter. Sure, he wrongly projects his already over-inflated sense of entitlement upon her, but, ultimately, he doesn't want his little girl pawed on by a food court-lurking lollygagger – and who can blame him? Leave it to Rooker to sum up a father's love in screams, puke and a gong-accompanied butt-cheek reveal.
Seriously. Leave it to Rooker. He's a professional and he'll do it right now if he has to. In fact, he wants to. He even bought an automated gong that's programmed to sound every time he shimmies his round ass out of the shower.
More Rooker on Friday.
zp8497586rq
Love this product, take the stronger one if you have erectile dysfunction.
Viagra vs cialis
! High quality of the medications we offer is the subject of our primary concern.
Twitter this