Posted by
Matt
on October 2nd, 2009
Mermaids are the Monster of the Week! Monday, Matt Finley investigated the evolution of the bang-able mermaid. Tuesday, he looked at the Mermaids history as a sideshow attraction. Enjoy!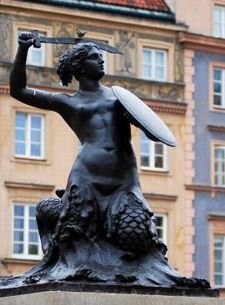 Sometime during the 1800s, after centuries of alternately fascinating, discomforting and titillating seamen and civilians, mermaids disappeared from the oceans, a loss for which the advancement of oceanographic science and the advent of international industrial and commercial air travel share culpability. Coincidentally, modern aviation also provides a minor, but fascinating, link to mermaid folklore in the 20th century.
(There was a rash of mermaid sightings off the coast of Israel in August of this year, when residents claim to have repeatedly witnessed a half-human, half-fish creature frolicking in coastal waters. These encounters, however, seem less relevant to a focused discussion of mermaids than to a broader analysis of how regional socio-political upheaval can yield increased cryptid sightings. See Tanzania's Popobawa for the starkest example of this phenomenon.)
As addressed in Monday's post, the earliest mermaid sightings, outside of mythological iconography, were reported during nautical expediti
ons, and circulated among sailors, most of whom were, by stated allegiance or signed contract, government employees. During the first half of the 20th century, there weren't many historically relevant appearances of merfolk, but two that do exist directly correlate to the creature's original background in the fevered imaginings of haggard nationalists flung across latitudes in the name of their countries. In WWI, Warsaw, Poland, used the image of a mermaid, part of their traditional city seal, on medals of valor awarded to homecoming soldiers. During WWII, cartoon mermaids – lips puckered and ample bosoms straining against oyster-shell brassieres – were included in the spate of cheesecake pinup icons adorning U.S. fighter plane fuselages. The mermaids sighted so long ago in strange waters surrounding unmapped continents informed a continued linkage between the image of these mythological temptresses and the indefatigable will of a nation to assert itself beyond its physical boundaries, whether through exploration or warfare.
By turning innovation and engineering skyward, aviation lent the ocean a less-triumphant-than-antsy "veni, vidi vici" quality. It isn't surprising, then, that as mermaid sightings tapered and died, 1877 brought the first recorded encounter with a flying humanoid, reports of which have increased in number over the last 135 years. Such is the joyful blind redundancy of folklore, guaranteeing myriad new cryptids that people will someday hatch from wild half glimpses stolen in the buzzing blue forks of light between telepods and the thin, shadowed creases of wormholes.
zp8497586rq
Twitter this